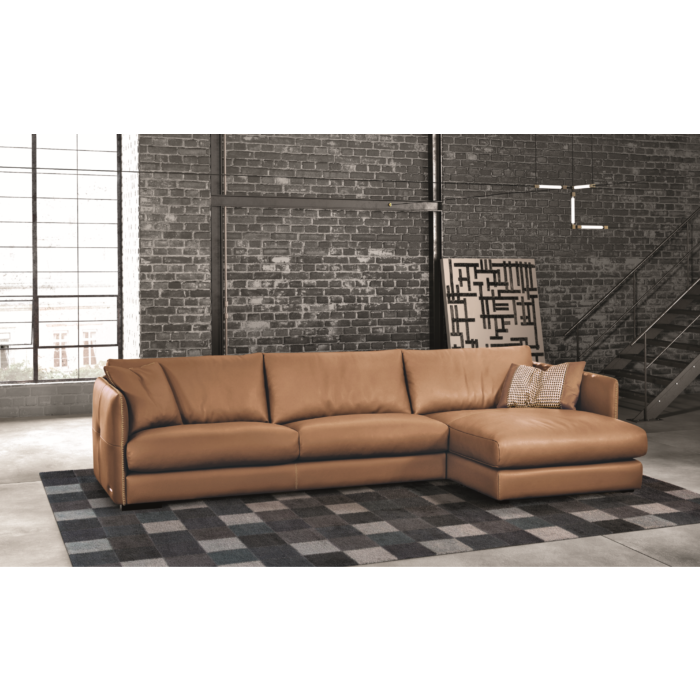 Gamma Arredamenti Alfred Sectional A
Delivery lead time: 20 weeks
Description /
Gamma Arredamenti Alfred Sectional A
Features:
Hardwood frame
Seat suspensions in reinforced elastic webbing
Seat Cushions in polyurethane covered with feather
Back cushions in feather
Wood Legs height 1.5"
Folding bed not available
All Coner elements include one C33 throw pillow free of charge
Special stitching on frame CUC 508 
Dimensions:
Overall W 128" x D 65" x H 31"
Chaise Lounge: W 40"
Seat Depth: 22"
Seat Height: 17"
Armrest Width 5"
Armrest Height 27"
Specifications of the item shown in the image:
Configuration: S03 + D31
Upholstery: Leather, Piuma E529
Stitching: CUC 508
More Information
Feature
03Other
Country of Manufacture
Italy
Manufacturer
Gamma
Shipping

Curbside Delivery

Curbside delivery service provides delivery of your item(s) to the curb at the end of your driveway. This service does not include the setup or assembly of items or the removal of packaging materials.

Your item will be shipped to a local delivery terminal.

The delivery terminal will call you when your item arrives to schedule a delivery appointment.

Deliveries are made between the hours of 8:00 AM and 5:00 PM Monday through Friday and will be scheduled as a 4-hour window.

Your item will be delivered on a lift gate truck and will be taken off the truck by the delivery driver.

Upon delivery please inspect your item(s). You will be required to sign a Proof of Delivery receipt. Please note any damage to the item or packaging on the delivery receipt or, if refusing delivery due to damage please note refused due to damage on this receipt.

A signature is required for all deliveries; the driver is unable to complete delivery without a signed delivery receipt.

Please note, if you live down a road or driveway that the delivery truck cannot access without causing damage to the truck we will be unable to complete the delivery.

 

White-Glove Delivery

Most furniture and select non-furniture items that qualify for White Glove Delivery include delivery inside your home, where our white glove delivery professionals will carefully unpack and inspect each item, assemble and place it in your room of choice. Please note that we are unable to unpack, assemble, or install lighting, or wall-mounted items, and certain other restrictions may apply. For your convenience, all packaging materials will be removed. We ask that you inspect your item(s) before our delivery professionals leave your home.

 

Item Requiring Professional Assembly & Installation:  Our delivery service for wall-mounted items, lighting, heavy mirrors, wall décor, bath vanities, and bath hardware includes bringing the package into the home, but does not include unpacking the item(s) and removing packaging from the home, or assembling or installing the item(s). Professional assembly and installation are required. Please refer to the product details for more information.

Our White Glove Delivery professionals are not permitted to move furniture currently in your home, nor are they allowed to move or set up electrical wiring, equipment, or wall-mounted items. Please clear the space where furniture or rugs will be placed prior to delivery.

An authorized adult, 18 years or older, must be present during your scheduled delivery window to accept and inspect your items and sign the delivery receipt.

White-Glove Delivery is Offered in New York City, Philadelphia, and the Metro area of the State of New Jersey

If you have any questions or inquiries please feel free to contact us at 800-345-7060 or email [email protected].

Warranty

Gamma products that are originals and exclusive in their design are the result of technical and esthetical research. They are manufactured through a quality certified production "UNI EN ISO 9001:2000 (9001:2000)"

 

Warranty coverage periods for Gamma products are as follows:

 

Frame: 10 Years
Suspensions: 5 Years
Leather: 3 Years
Stitching: 2 Years
Cores: 2 Years
Mechanism: 2 Years

This warranty is offered to the original customer/owner; is not transferable, and begins from the date of purchase by the original customer/owner. Claims under this warranty should be made to the retailer where the product was purchased or through a retailer authorized by Gamma. Once the warranty coverage period expires, repairs will be charged by Gamma to the customer including but not limited to the labor, material, shipping, and staff costs. Gamma will repair or replace, at its option, any defective workmanship or material found in the product but only after receiving authorization for such repair or replacement from one of its representatives. Defects In workmanship and materials are defined for the purpose of this warranty as (1) causing the product to be structurally or mechanically unsound, or (2) substantially altering the appearance of the Gamma product. The choice of a smooth and less firm aspect of some of the styles of our collection demands the use of softer foam to give the sofa a more relaxed and cushy image. This style is not to be considered as a defect, but a standard feature as shown in our brochures or during the several Fairs, at which we present our products. For these reasons and for the afore-described styles, the customer will receive a product in line with these standard features. The eventual softening of cushioning should be expected as a result of normal use and is not to be confused with loss of resiliency due to defects in construction or material. A different density of the foam may be requested through a written purchase order. In the event, materials are needed for a replacement and they are not available, Gamma has the right to substitute these unavailable materials with ones of corresponding or equivalent quality. Gamma will not be liable to any person for any special, incidental, indirect, or consequential damages, including without limitation, damages resulting from the use or malfunction of the products, loss of profits or revenues, or cost of replacement goods. In any case, the liability of Gamma Arredamenti International Spa shall be limited to the purchase price of the product covered by this warranty or the value for a replacement. This warranty applies under conditions of normal usage and does not apply to defects resulting from misuse, accidents, negligence, normal wear and tear, acts of God, or vandalism. The products are not warranted for commercial use, contract, rental trade, or other non-residential uses. This warranty does not apply for circumstances where there has been improper cleaning abuse, utilization of chemical products, overexposure to sunlight, extreme heating sources, and sunlamp, spots caused by acids, solvents, staining, chemical corrosive agents, ink, paint, or bodily fluids. Every piece is identified by a numerical number located on the frame under each piece. Every removal or counterfeit of this number will cause the loss of the warranty. Gamma Arredamenti International Spa makes no other warranties. No modification of these terms or releases is allowed unless officially authorized by a Gamma official and in writing. This warranty gives the customer/owner specific rights which may vary from State to State.